Our Services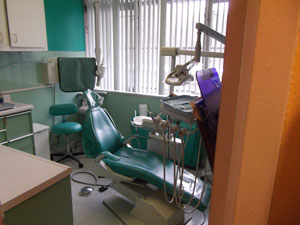 From routine cleanings and fillings to cosmetic and implant dentistry, Rochdale Dental Care is equipped to handle all of your dental needs. To help you understand your options, we have included on this page descriptions of some of our leading services.
Initial Oral Examination
Your initial oral examination includes a visual examination, charting, periodontal probing, diagnosis and treatment recommendations. We will also take digital x-rays, which reduce radiation exposure to our patients by up to 90% and allows our dentists to correctly diagnose your current dental condition.
Dental Implants
We create an implant for a single missing tooth, multiple missing teeth, or to replace a removable appliance.
Teeth Whitening
Our state-of-the-art bleaching system gives you whiter teeth in just days with easy at-home application.
Invisalign®
Invisalign's® invisible, removable, and comfortable aligners will give you the beautiful straight teeth you've always wanted. And best of all, no one can tell you're wearing them. Invisalign is great for adults and teenagers.

Crowns and Veneers
You can have a new smile with all-porcelain crowns or veneers on anterior teeth. For the posterior teeth, the latest technology in porcelain and PFM crowns are utilized to insure a beautiful, natural-looking smile.
Fillings: Resin & Amalgam
We use both tooth-colored resin fillings that are cured to match your teeth and amalgam (silver-colored) fillings that are used for posterior teeth. Amalgam fillings are made of more durable material, which makes them better for posterior teeth. If an amalgam filling shows in your smile, we can replace it with a tooth-colored resin filling.
Root Canals
We perform root canals on anterior, premolar and molar teeth. We use the latest rotary root canal technology. This allows us to minimize office visits and makes the root canal experience much more comfortable and predictable.
Cleanings and Periodontal Treatment
All patients should have a standard cleaning at least twice a year. A child should have a cleaning and fluoride treatment twice a year. A cleaning on an adult might include prophylaxis (basic cleaning), and/or a periodontal scaling and root planing.
Mouth Guards
Whether you are an athlete or a casual sports participant, you should wear a mouth guard to protect your teeth. If you grind your teeth while you sleep, a bite guard will reduce symptoms of TMJ problems. We custom make mouth guards in both soft and hard materials.
Removable Dental Prostheses (Dentures)
For patients who are missing multiple teeth, we fabricate full dentures or partial dentures. We also offer flexible dentures which contain no metal and provide a better aesthetic option for our patients.